Ring Pop® Strawberry Lemonade Stand
We're looking forward to summer…the long days, the warm nights, and all the opportunities to have more fun together! So, we dreamed up a great summer treat, a Ring Pop Strawberry Lemonade Stand! Inspired by our Ring Pop Gummy Gems with new Strawberry Lemonade flavor, it's the perfect sweet and refreshing activity for you and your kids!
And check out our video at the top of the page!
Strawberry Lemonade Pennant Banner - Everything you'll need: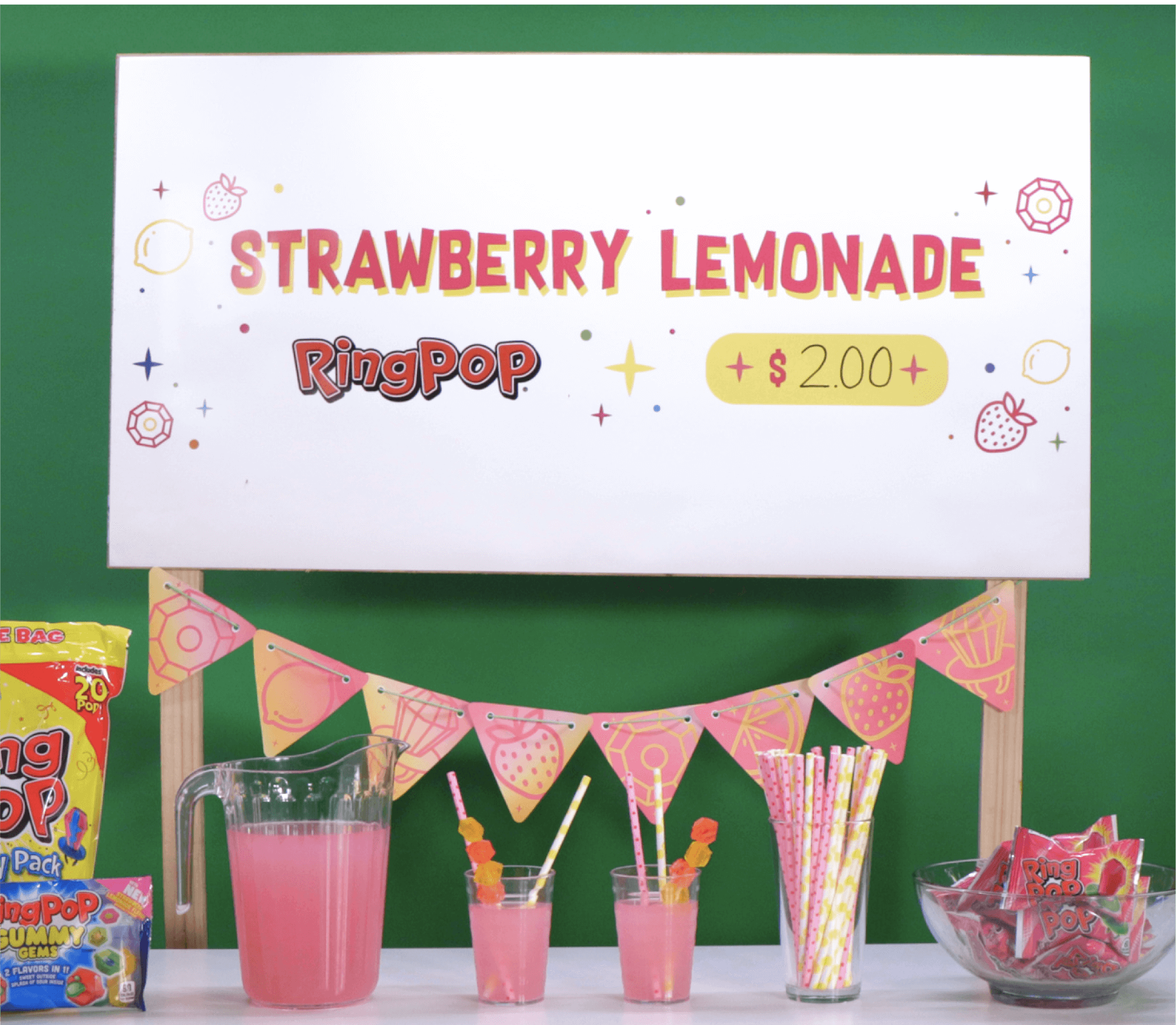 Step 1: First, the signage and decorations! Every stand needs a pop of color to stand-out, so we created a very special pennant banner and custom sign! To start, download and print our Strawberry Lemonade pennants and sign. LINK HERE.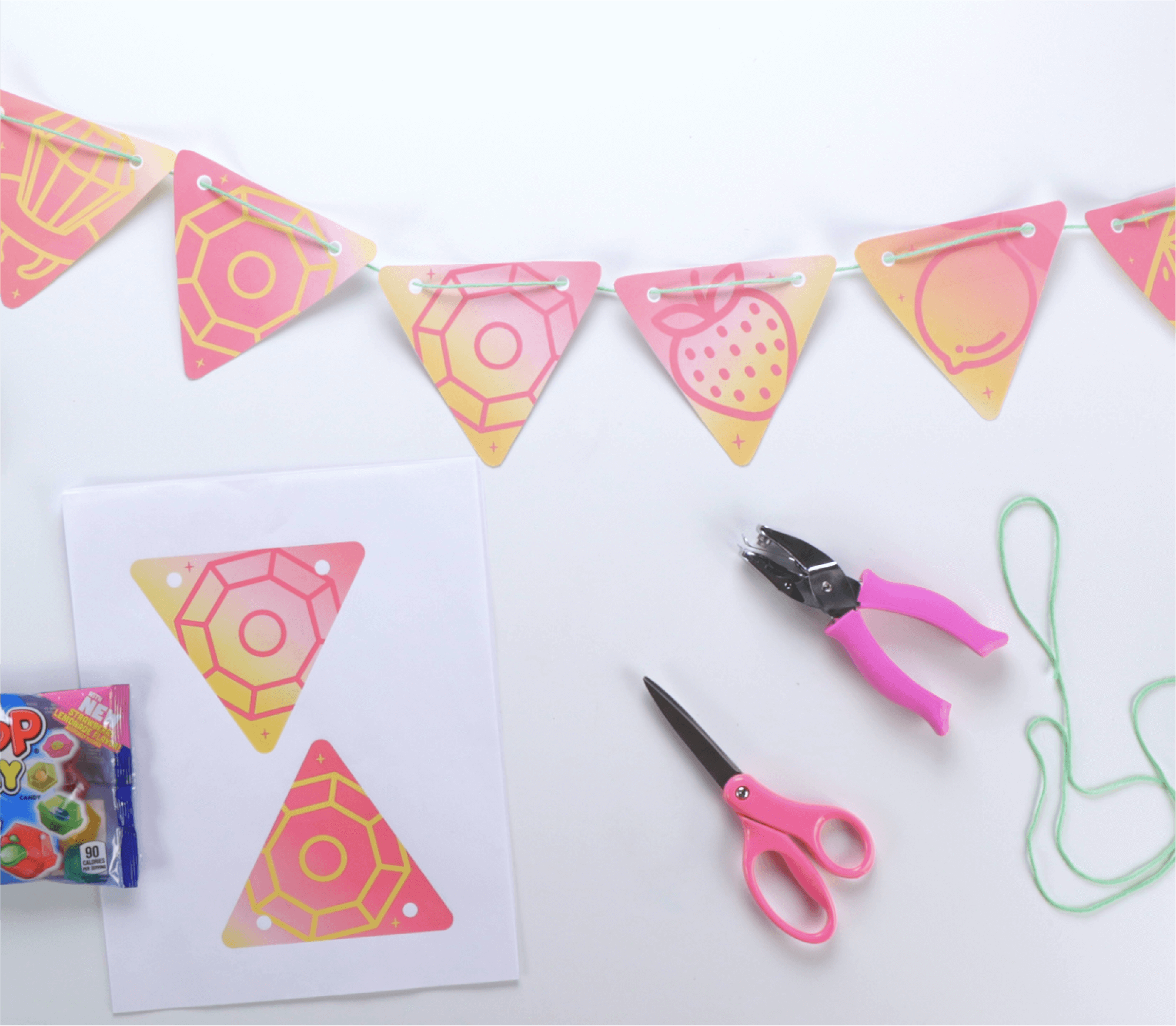 Step 2:
Cut out the pennants. The template creates an 8-pennant banner. To make a longer banner, just print more pennants!
Step 3:
After all the pennants are cut out, your kids can make two holes in each pennant with a hole punch. Use the white holes on the design as a reference.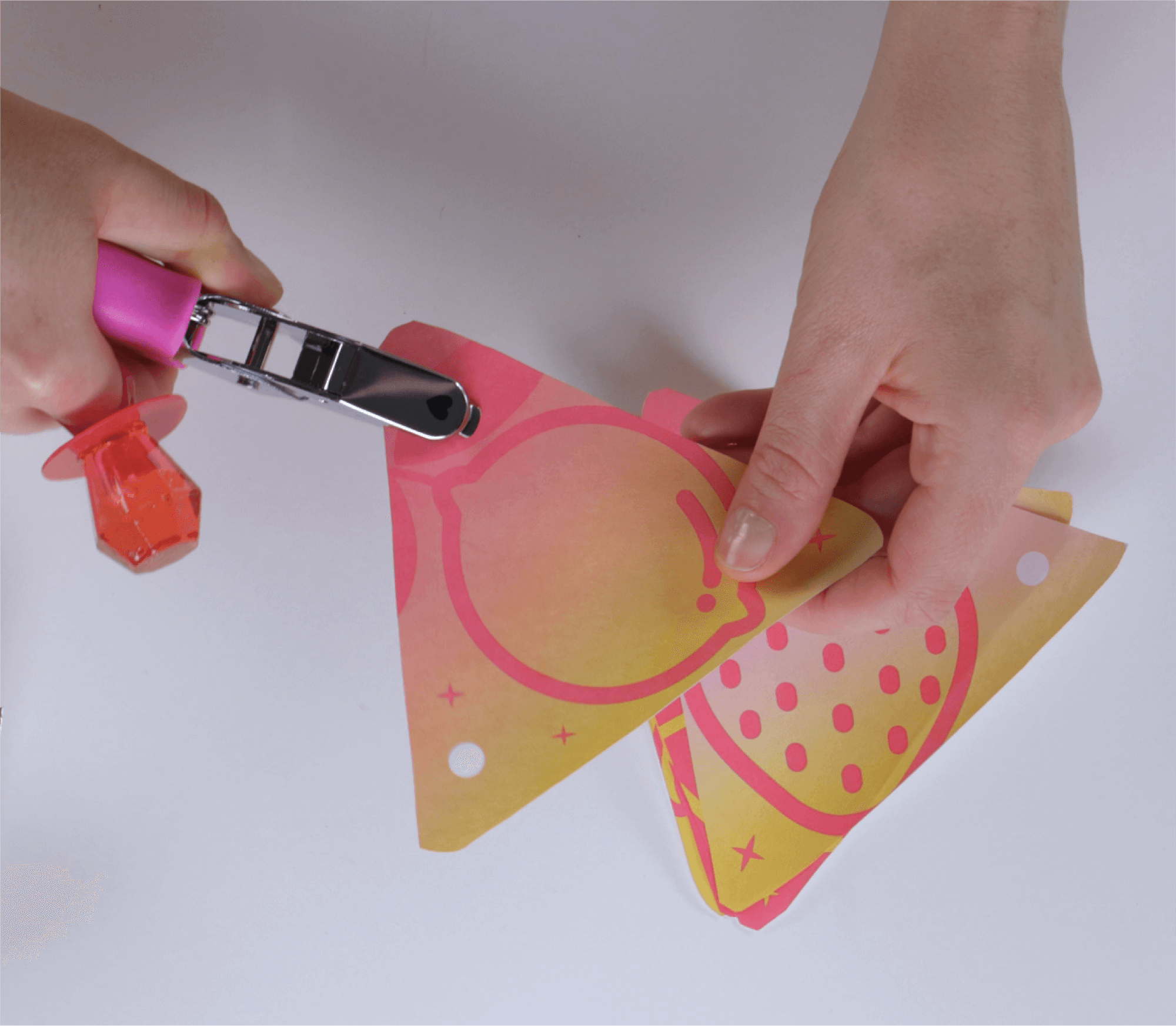 Step 4:
Then unravel string, twine, or yarn. Don't cut it yet, just pull out a length of it and your kids can start to carefully string on their pennants. Laying everything flat can help make this process easier.
Step 5:
After all the pennants are on, see that they are spaced out evenly and that there's equal amount of extra string on each side of the banner, enough to hang. Then cut the string and knot each end with a loop to hang.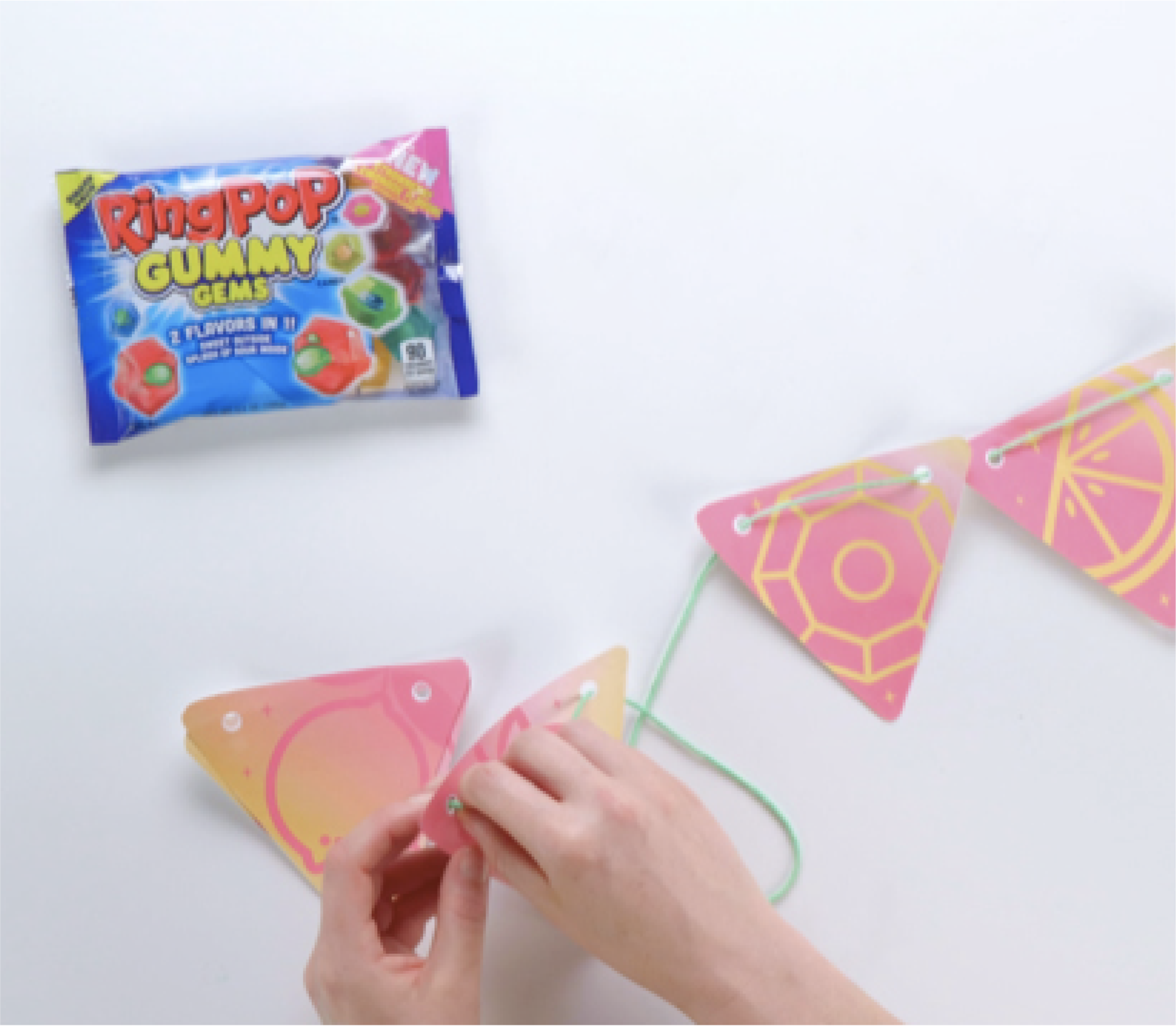 Step 6:
Now your Ring Pop Strawberry Lemonade Stand sign! Your kids can cut out the sign (from the download), add in the cost of their strawberry lemonade, and just like that they have a Lemonade Stand!
Well, almost…we need the Strawberry Lemonade! Follow our kid-friendly recipe below!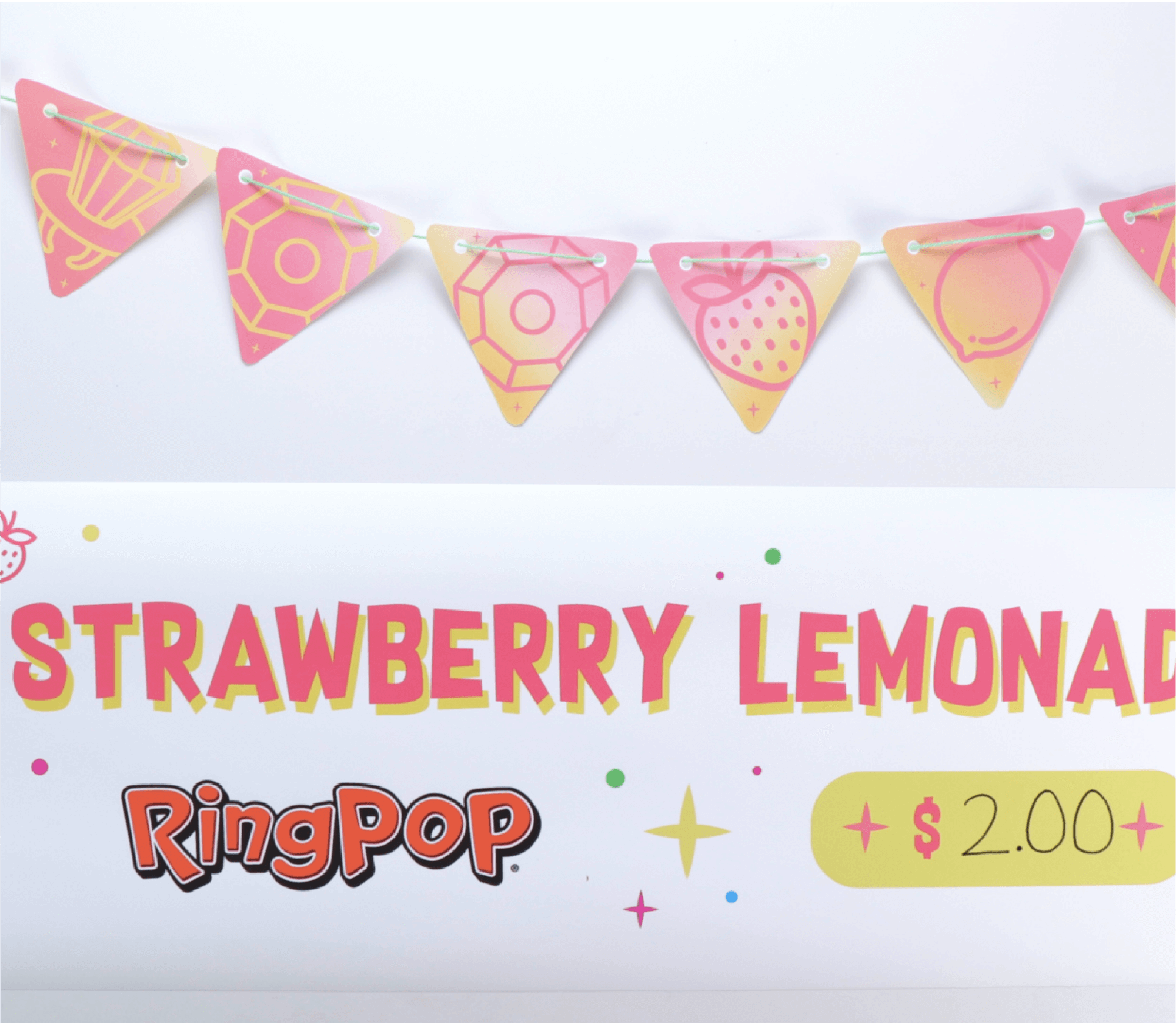 Ring Pop Strawberry Lemonade (makes 1 pitcher) – Everything you'll need:
Ingredients:
2 cups fresh or frozen strawberries
7 cups of water, divided
1 cup of white sugar or more to taste
2 cups freshly squeezed lemon juice
For Garnish:
Cocktail Bamboo skewers or drink swizzle sticks
3 packs of Ring Pop Gummy Gems with new Strawberry Lemonade flavor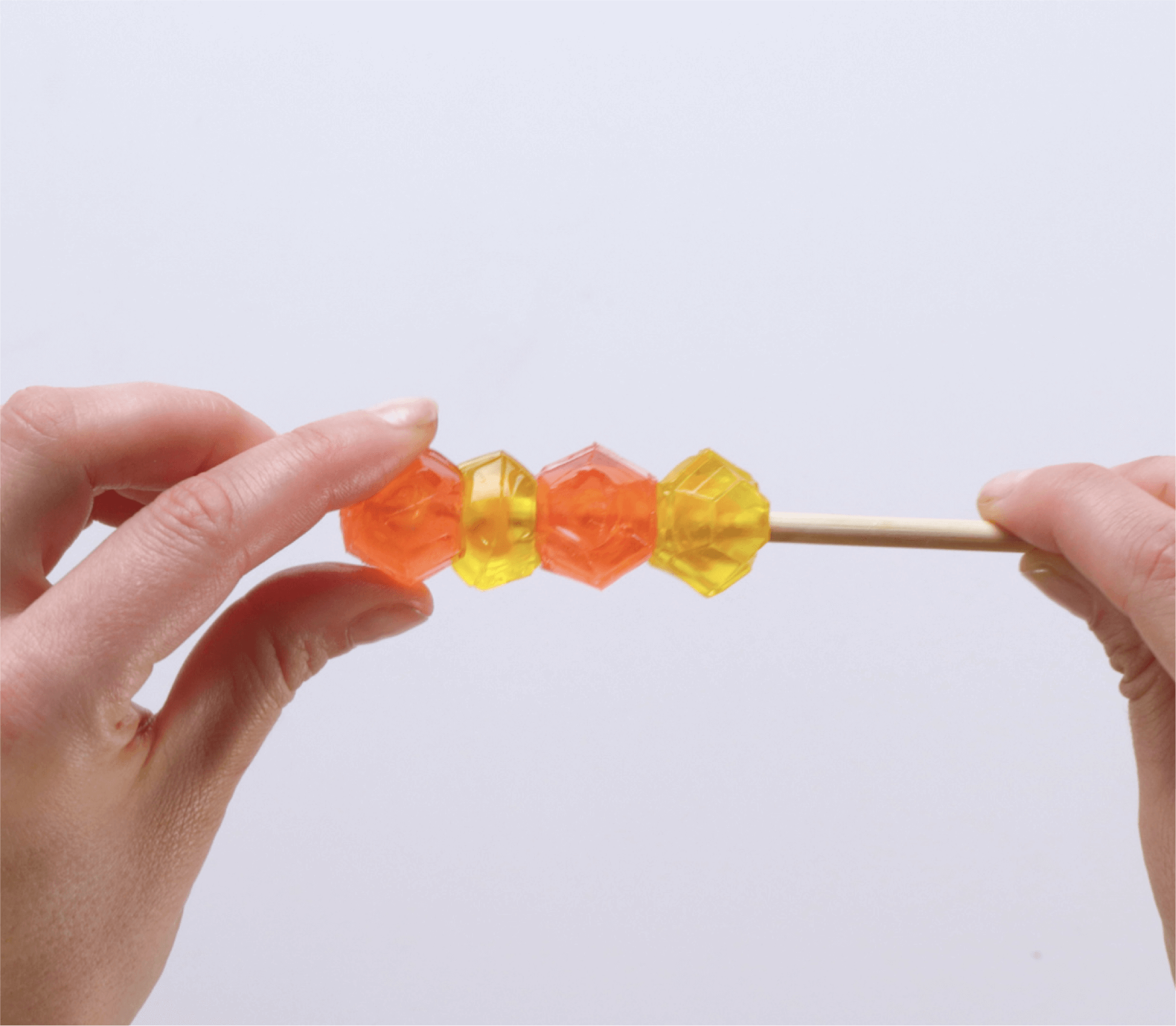 Place strawberries in a blender, with 1 cup of water. Blend until smooth.
In a jar combine sugar and 1 cup of water. Cover tightly and shake until sugar is completely dissolved.
Combine the strawberry puree, sugar water mixture, lemon juice and remaining 4 cups of water in a pitcher.
Stir thoroughly. then chill until ready to serve.
To serve, add a couple Strawberry Lemonade Ring Pop Gummy Gems to the end of a skewer or swizzle stick, and place in each cup for a sweet and tart Ring Pop garnish!
Share your Strawberry Lemonade Stand fun with Ring Pop® with #RingPopPartyStarters!