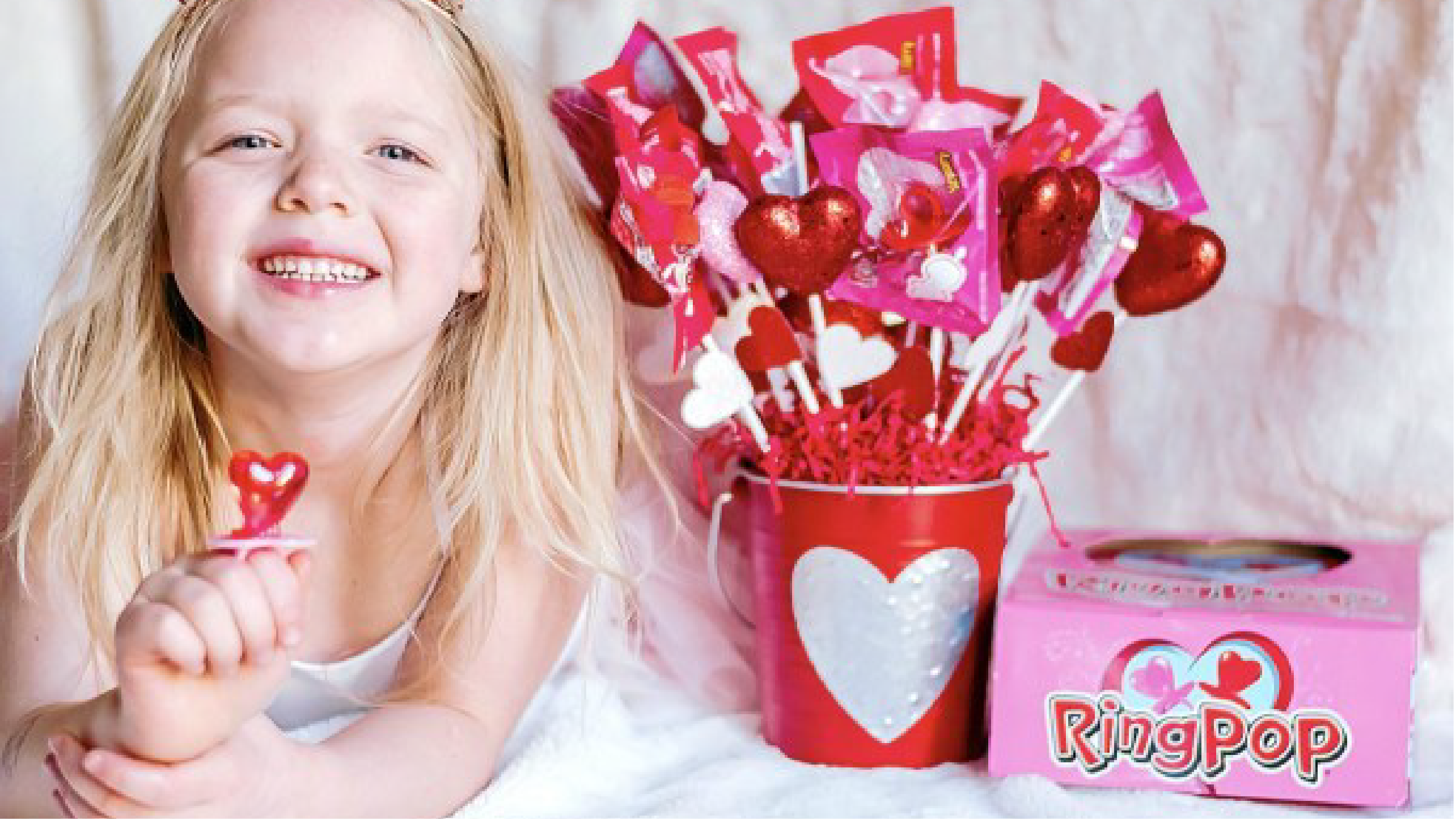 Valentine's Day Ring Pop® Bouquet!
I absolutely LOVE Valentine's Day! A day that is dedicated to spreading love and joy to the people you care about most, how could you not? Each year, we put a lot of thought into which treat the kids will bring to school to share with their teachers and friends. This year, we "nailed it," as McKinley would say! The kids decided they wanted to give Ring Pop lollipops to their friends, so we decided it would be so fun to make a Valentine's Day Ring Pop Bouquet! It is SO simple to make, and with so many colors and flavors of Ring Pop lollipops, you can give every kid their favorite one! We went with a strawberry and cherry flavored bouquet; the colors are perfect for Valentine's Day, and they taste great! Each child in her class can pick a Ring Pop "flower" from her pot as a Valentine! This is a great activity the kids can help out with at home, or a great option for a classroom Valentine's Day party activity! Here is how we made it!
Everything you'll need:
Ring Pop flavor/flavors of your choice (Classic Gem shape or Heart shape)
Flower pot, bucket or basket of your choice
Styrofoam ball to fill your pot
Tissue paper
Cake skewers
Styrofoam hearts
Glue sticks + Glue gun
Paper confetti/filler
Cardstock colors of your choice (we used glitter pink and glitter red)
Heart paper punch, or you can cut individual hearts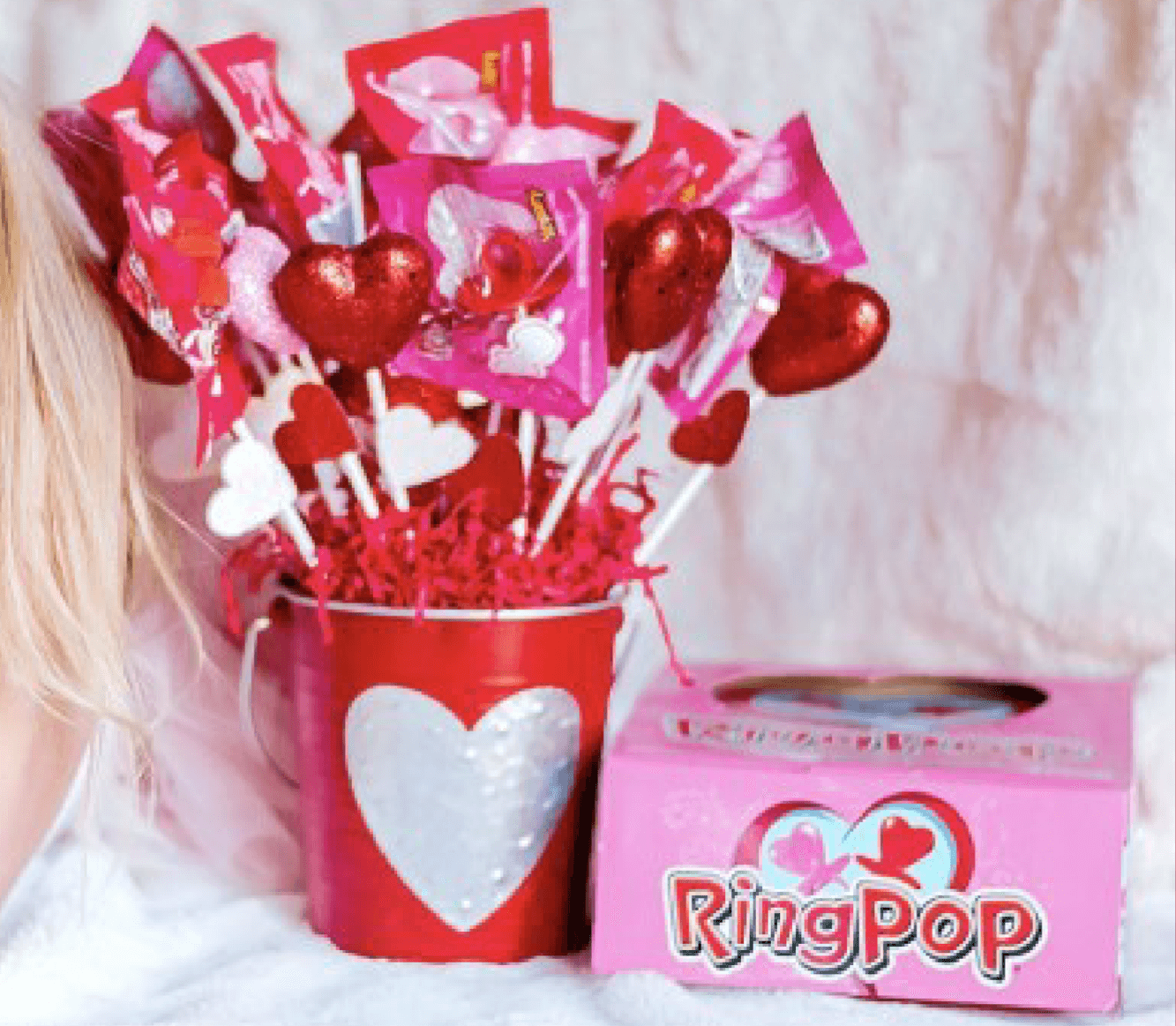 Step 1: We started to build our bouquet by stuffing tissue paper in the bottom of the bucket – this was a great task for McKinley! Using the glue gun, I applied a small amount of glue to the bottom of a styrofoam ball. We pressed the styrofoam ball on top of the tissue paper.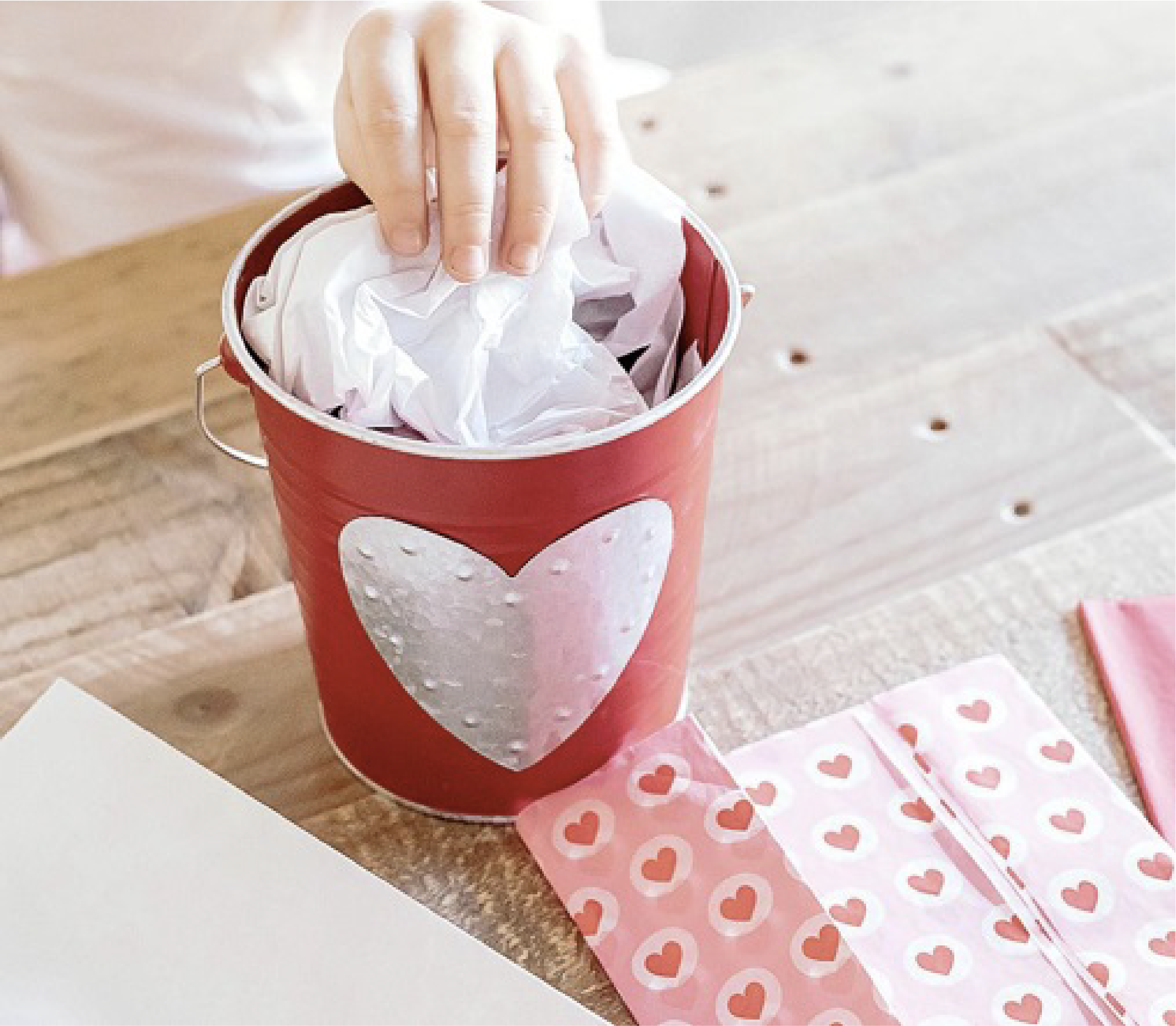 Step 2: Next, McKinley inserted cake skewers into the bottom of each styrofoam heart. We then evenly distributed them into the styrofoam ball.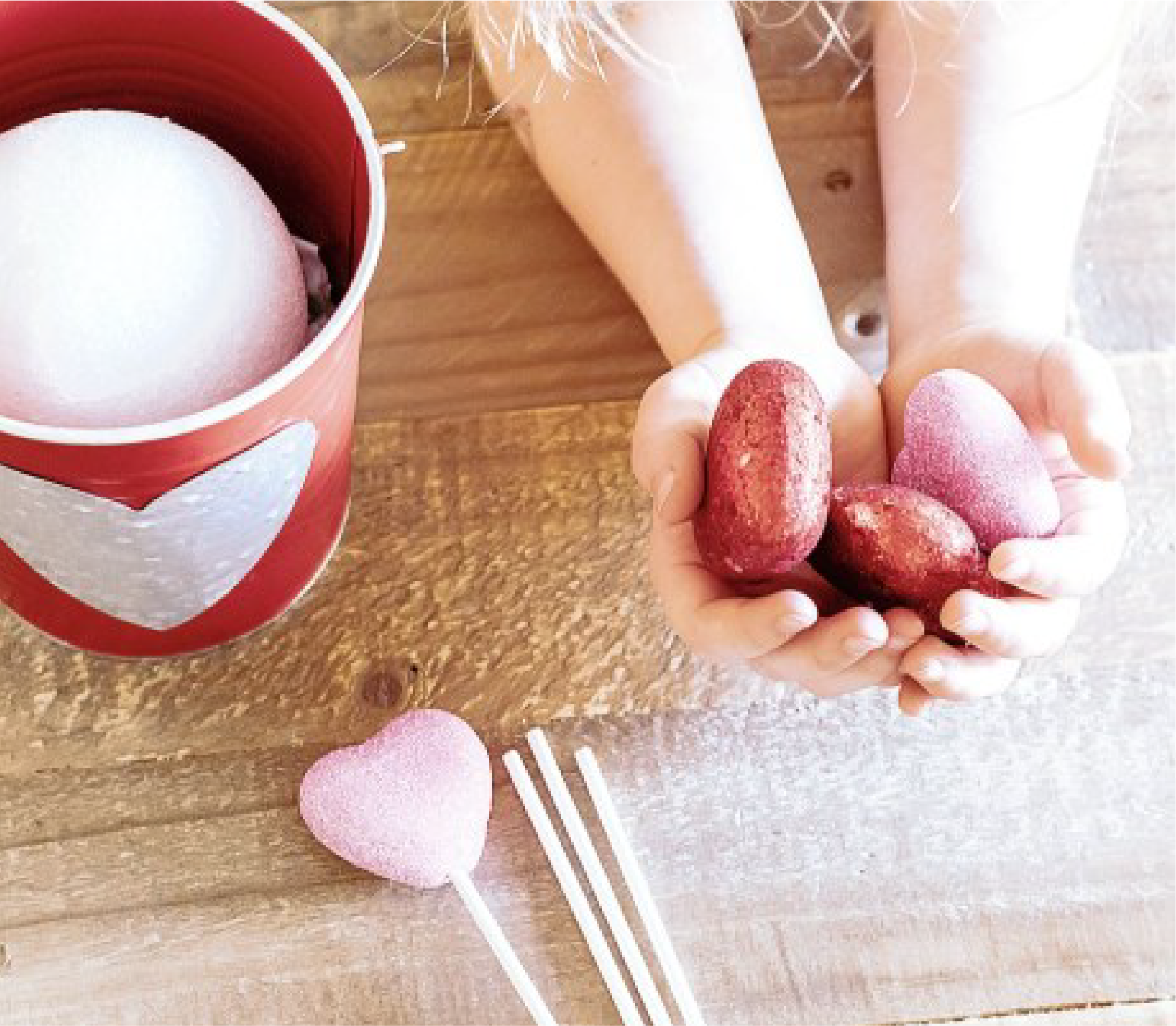 Step 3: Meanwhile, I glued a Ring Pop package to each cake skewer. I made enough for each child in the class, plus a few extra for her teachers, and friends on the bus!
Step 4: We distributed the Ring Pop skewers evenly into the styrofoam ball with the heart skewers. We then filled the rest of the pot with red paper confetti filler.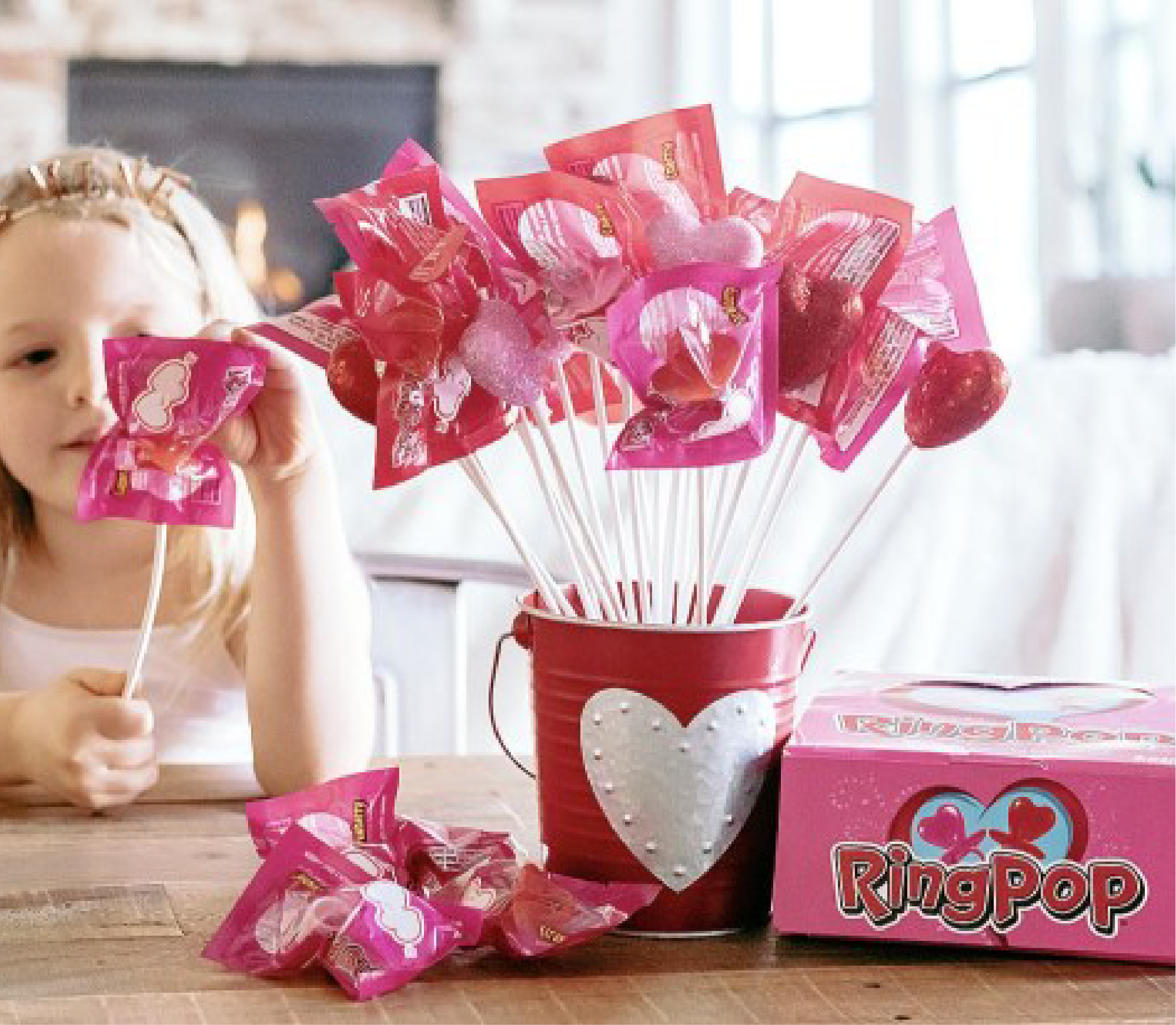 Step 5: Next, we used our heart punch to cut little hearts, or "petals." You can certainly cut little hearts with scissors if you do not have a heart punch. With the glue gun, I applied each heart to a skewer.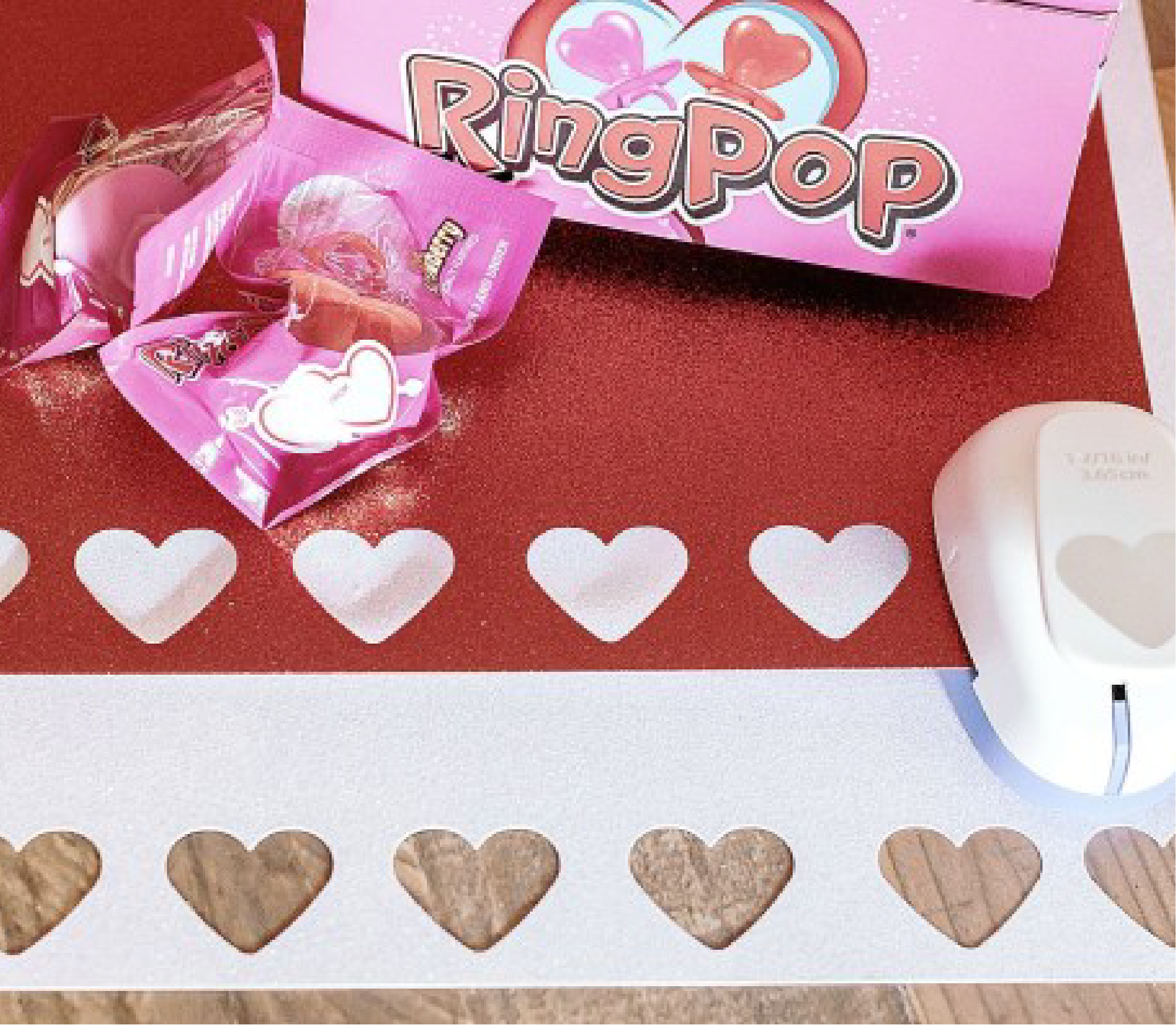 That is it! So simple, yet absolutely unique and adorable in every way! We had so much fun making this Ring Pop Party Starters activity for her class because Ring Pop makes every party sweeter! Here are some tips when creating your Valentine's Day Ring Pop Bouquet:

Use a pot, bucket, or basket that is light in weight so that it is easy for your child to transport to school. I would avoid glass or ceramic.
Stickers, glitter glue, puffy paint, pipe cleaners, and pompoms would be really cute enhancers to your pot!

If you are a teacher or room mom, this would be such a cute activity for each of the kids to make for the Valentine's Day party! Simply use a smaller pot for each of the kids to bring home!
Happy Valentine's Day ♡
Share your Ring Pop Valentines Bouquet fun with Ring Pop® with #RingPopPartyStarters!!